We are the Committee of Americans for Luke Rodgers.  A group of men and women that feel it is essential to all parities involved that Luke Rodgers be allowed to participate in the growing  American soccer culture and its top division Major League Soccer.
1) That Luke Rodgers be given a Visa and Work Permit to play for the New York Red Bulls
2) To do whatever action is necesary to atain the above goal
3) To ensure this never happens again and if it does be ready to regroup.
Members:
Ian D. Erickson
Matthew Kremkau
Nicole E. Erickson
Craig G. Erickson
Christopher Kungel
Any inquiries please contact us at : AmericansforLukerodgers@gmail.com
You can find more about me Ian Erickson. I maintain this site and write all the posts here Ian Erickson's About Me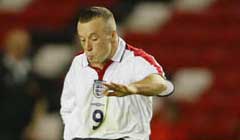 …….